Are you a qualified Mathematics Teacher seeking a new opportunity?
We have a fantastic opportunity for a fully qualified Mathematics Teacher, to join and take a leading role in our very successful, attractive and happy growing school in Shanghai. The school can provide small classes, good collegiality with staff colleagues and a supportive induction programme for new teachers.
About the School Britannica International School Shanghai (www.britannicashanghai.com) is the only truly British owned and managed, British style, international school in Shanghai, and is part of the Orbital Education group. It offers learning and teaching experiences based on the Early Years Foundation Stage and English National Curriculum enhanced to meet the needs of its international student body. Secondary students are prepared for Cambridge University and Pearson Edexcel IGCSE and A Level examinations.
The school is accommodated in well-resourced and purpose-built premises that are situated in the high quality residential district of Gubei, which is within 20 minutes of the vibrant Former French Concession area. It has a capacity for 750 pupils from 2 – 18 years of age, making it unique in the city with regard to its smaller school and family feel environment. The school currently has a student population of over 400 pupils. Class sizes are all under 22 pupils and often smaller.
About the Opportunity
Teaching posts are initially offered as a two-year contract, with the possibility of renewal of contract at the end of this period.
A remuneration package that includes a basic salary in excess of that offered in the UK, with low taxation, along with annual flights, a housing allowance, full medical cover and a relocation allowance to assist in settling in the city.
A bonus is provided for very year taught along with annual remuneration increases based on performance reviews. The teaching year consists of 180 days, with good holidays spread throughout the academic year allowing staff to make the most of their time in Asia.
We are seeking applications from individuals who have experience of teaching Mathematics. Applicants must have a relevant Bachelor degree from a reputable University and Qualified Teacher Status.
As an English school specialising in the English National Curriculum to a diverse international student population, English as a First language is a crucial requirement for the candidate, and accordingly applications from native-level speakers of English will be preferred.
Britannica has already built its reputation on high quality and high standards and as such it has similar high expectations of its staff. The school therefore welcomes fully qualified, flexible, creative, child-centred teachers who will further enhance the quality of teaching and learning and also be prepared to contribute to the extra-curricular life of this busy school.
Britannica Teachers:
- are passionate about education, inspire their pupils through their engaging and demanding teaching,
- participate in all aspects of school life,
- create a warm and safe community, to which parents and pupils are proud to belong,
- are flexible and have a sense of humour,
- enjoy being part of a British owned and managed group of schools with all the consequent benefits this brings.
Benefits of working at an Orbital Education School Orbital Education https://orbitaled.com/ focuses on delivering the very best in British education to its students around the globe. It's an expanding group with schools already in Spain, Hungary, Slovenia, China, Mexico, Ecuador and the Middle East, with exciting plans to develop new schools across the globe.
Key reasons to work at an Orbital Education School include:
i) Opportunities to collaborate with colleagues and students worldwide
ii) Enhanced professional development opportunities, through partnerships with specialist learning providers to offer recognised and accredited professional development programmes.
iii) Opportunities for both career development and movement within the group, providing opportunity to see the world whilst progressing an attractive and rewarding career.
Living and working in Shanghai
Shanghai is one of the largest cities in China, but is probably its most diverse and cosmopolitan, with a huge International community choosing to travel, live, and settle here. Shanghai provides an excellent lifestyle, with a combination of western cultures mixed with the best of China's past and present, making Shanghai's local culture unique in the world. Shanghai is an extremely safe, welcoming, and modern city, with its friendly occupants known for their hospitality, and the ability to make you feel at home.
There are excellent education facilities, transportation, and amenities across the city, with two International airports providing excellent transport links across the world.
Applications If this describes you and you are keen to join our excellent school and friendly, supportive and hardworking staff team, then we would welcome an application from you. Your application should be submitted by email and should include a CV with photograph, a letter of application and the names and email contacts of two referees, one of whom must be your current or most recent employer. Please submit your application to the Principal, Mr. Paul Farrell at Paul.Farrell@britannicashanghai.com
Safeguarding
Britannica International School, Shanghai is committed to safeguarding children and young people. As part of the school's commitment to safeguarding, all post-holders are subject to background checks and an International Child Protection Certificate administered by ACRO https://www.acro.police.uk/icp... (if ever worked or lived in the UK), Prohibition Checks where appropriate and/or Criminal Records (Police Check) disclosure from their most recent country of residence. Prior to employment employees will also be required to present original and notarised copies of their professional qualifications.
Start Date

1st August, 2023

Contract Date

Full Time

Contract Term

2 Year Renewable

Closes

31st March, 2023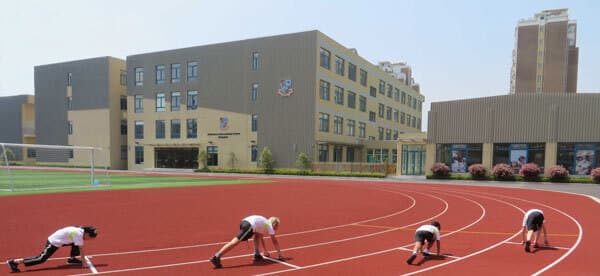 Discover
Britannica International School, Shanghai, is the only school in the city to be British owned, with fully-trained teachers from the British Isles, delivering the English National Curriculum to children from age 2 to 18 years, starting at the Early Years Foundation Stage (EYFS) all the way through to IGCSE and A Level qualifications.
Its British heritage means that children leave with the highest level of achievement. Britannica International School, Shanghai is located in Gubei, close to the downtown area, with nearby open spaces, and is easily accessible with short journey times and bus routes for students. The highest quality, fully-trained teachers from the UK are selected for their experience and excellence, and the close nurturing environment school means that all students have the care and support that they need to be effective and happy learners.

Assessments
iGCSE / A-Level